Hey everyone, I am a former car sales person from Northern California, I am excited to be here part of the YAA community helping everyone with anything I can. Ask me anything and I will answer your questions. Sometimes, even correctly.. ;-)
Not all dealerships are bad. Yea, I know dealer reputations tend to lean that way when I write about their behavior and markups. But most of that deals with just plain old greed. On the other hand there are times when their behavior is completely out of pocket and sincere. In this case, one dealership has made things right with a teen who was out both thousands of dollars and a vehicle.


If you missed the story before, here's a small recap: Jonathan Fredricks, a 16-year-old Dallas-area teen saved up $10,000 over the course of a year working at Chick-Fil-A. His grandfather offered to take him car shopping when he turned 16, and their shopping journey landed them at a local dealership called I Drive-DFW. They didn't find a car they liked on the lot, and instead were offered to buy the personal vehicle of the salesperson that was helping them out, the ironically named James Steelman. Fredricks paid Steelman about $9,800 a 2016 Mazda CX-5, which they later find out didn't actually belong to Steelman. It was owned by the dealer, who Steelman bought the car from and stopped making payments on. The dealer repoed the car from Fredricks five months after he paid Steelman cash for it, leaving the teen without a car and his money.
Everything was looking bleak for the kid, until another dealership stepped up to help him out.
Frank Kent Motor Company, a GM dealer group of Cadillac, Chevy, Buick, and GMC, reached out to me after seeing the story. The dealer's marketing director Aaron Hoernke said that they wanted to make things right after seeing what happened to the kid.
After seeing the story initially on CBS Dallas – we at Frank Kent knew we had to do something to take care of this kid and show him that not all dealers are sleazy like the one he had previous dealings with! So we reached out to the news station to get us in touch with him and, after getting in contact, let him know that we would like


to donate a vehicle to him at no cost.
I couldn't believe what I was reading. A dealer that had nothing to do with the initial situation was doing something that the original dealer failed to do. They wanted to give the kid a car with no strings attached because
it's the right thing to do
. And that seems to be what Frank Kent Motor Company was founded on.
A lot of dealers have founding principles that they just don't follow anymore. This place appears to follow its principles though: Founded in 1935, the dealer's guiding principle is "Morals, values, and ethics over profit." I'd say that's a hell of a principle to go by being in the car sales business. And with their creed of "Community Driven…Locally Different…Since 1935", donating a Kia Soul to a kid who was screwed by a salesperson at another dealership is very different. I Drive-DFW should take note:
this is how you do business.

 
 Original Story by Lawrence Hodge Here on Jalopnik
The automotive market is in a strange place right now where automakers cannot built as many vehicles as they would like because of the semiconductor crisis. At the same time and as a consequence of this problem, used car prices have skyrocketed in recent months. 
You can be sure some car dealerships are trying to profit from this situation by applying markups, and there's little to nothing automakers can do to prevent this from happening. Sometimes, however, dealerships go way out of line as the following example proves.


Jon Rettinger, TechnoBuffalo founder and popular YouTube influencer, says something like that happened to him while shopping for a 2022 Mercedes-Benz EQS 580 4MATIC.


In a tweet, Jon says he had approached Mercedes-Benz USA and had an EQS reserved for pickup. However, at one point the dealer notified him of a $50,000 markup on the car. Since we're talking about a vehicle that starts at $119,110, Jon understandably backed out of the deal, refusing to pay 40% extra for nothing in return.


He then complained about the issue to Mercedes-Benz USA and a representative replied there was nothing they could do about it as "
pricing is completely up to the dealer
" and the automaker is "
legally not allowed to intervene.
"
The reply also mentions the initial "extremely limited supply" for the EQS and that MB is "certainly not endorsing this premium." It ends with a rather strange statement, though: "I certainly believe the car is worth it."


The story does not end here. Rettinger went out and bought himself a Lucid Air instead, posting a photo of it in the same thread. When someone asked him if he bought one, he confirmed, promising to drop a video with his first impressions of the luxury EV sometime in January. All's well that ends well, right?


Original story By Dan Mihalascu Here
The 2021-22 Tesla Model Y has captured the Top Safety Pick+ award from the Insurance Institute for Highway Safety (IIHS). Only the most worthy vehicles are labeled with the Top Safety Pick+ label.


The Model Y qualified for the elusive label by earning top marks in each of the IIHS' six crashworthiness evaluations, "including the driver-side small overlap front, passenger-side small overlap front, moderate overlap front, original side, roof strength and head restraint tests," the agency said. The award only applies to Model Ys built after April 2021.


IIHS spokesman Joe Young told
Teslarati
that Model Y vehicles manufactured before May 2021 do not qualify for the Top Safety Pick+ award because the agency did not test the car's Front Crash Prevention Rating, as it did not have access to a vehicle built before this date. Additionally, Tesla transitioned from a camera and radar-based system to Tesla Vision — the camera-only system that Tesla will utilize for its self-driving projects moving forward. The only Model Y vehicles permitted to have the rating were built after April 2021.


The Model Y received top marks for each of its crashworthiness tests, and the Performance trim of the all-electric crossover also captured a "Good" rating for its headlights. The Long Range variant held a slightly lower "Acceptable" rating for its front beams, as it had "some glare," a characteristic the Performance variant lacked, which resulted in a higher rating.


The Model Y now joins its sibling vehicle, the Model 3, on the Top Safety Pick+ list. Tesla owns two of the several EV spots to appear on the list. Other EVs that made the cut are the Volkswagen ID.4 also receiving "Good" ratings across each category, earning it a spot on the highly-exclusive list for only the safest vehicles available to consumers. Additionally, the Audi e-tron Sportback and regular 4-door models also received the Top Safety Pick+ rating.

Original Story By Joey Klender can be found here.


Remember when BMW wanted to charge drivers to use Apple CarPlay? How about the subscription required for the Mercedes EQS's rear-wheel steering functionality in Europe? It turns out that luxury marques aren't the only ones looking to cash in on that sweet, sweet software as a service cash: Toyota has been testing the waters by making the remote start functionality on your proximity key fob part of a larger connected services subscription.


Yes, it appears the pay-to-play ethos that's spreading around the industry has reached the world's largest automaker. A Toyota spokesperson confirmed to
The Drive
that if a 2018 or later Toyota is equipped with Toyota's Remote Connect functions, the vehicle must be enrolled in a valid subscription (whether it be a free trial period or otherwise) in order for the key fob to start the car. It's become more common in recent years for automakers to charge for apps that allow drivers to monitor, lock, or start their cars with their smartphones. But as far as we can tell, Toyota's the first company to charge for full use of your physical key fob—either $8 a month or $80 a year at the Remote Connect plan's current price.


When buying a new Toyota, buyers have the option to trial Toyota's Connected Services. These can include features like emergency assistance, hotspot connectivity, and app-based services like remote vehicle unlocking and starting. The length of Toyota's trial depends on the vehicle in question, as well the audio package included in the vehicle. For example, vehicles equipped with Audio Plus get a trial of up to three years whereas Premium Audio may have a trial for up to 10 years. Beyond that, drivers will need to pay for a subscription to continue using remote services.
It also might not be clear when buying a new Toyota that the remote start function is tied to a subscription. For example, the dealer video below shows a brief overview from a salesperson who states that the key should work on certain Toyotas "as long as [they have] Audio Plus"—no mention of the trial period or required subscription once that ends.

News of Toyota's decision surfaced on Reddit last month after an eagle-eyed user spotted some wording in Toyota's Remote Connect marketing materials that suggested an ongoing subscription would be required for drivers to start their car remotely with their key fob. The phrasing was confusing, and some wondered whether Toyota would actually take this step. A peek at various Toyota forums shows some owners have been reckoning with this possibility for a couple years now, though with many 2018 or newer Toyotas still within their subscription trial periods, it's entirely possible that most drivers are unaware of the arrangement.
Though the thread on Reddit was eventually labeled "Potentially Misleading" by moderators after garnering hundreds of comments, Toyota's response to The Drive was unequivocal: A paid subscription will eventually be required for the key fob's remote start function to work for every single model.
Ten years might seem like a long time. According to a study by iSeeCars, the average vehicle owner keeps their car for around 8.4 years. Toyota is ranked as the longest-kept manufacturer, with the average vehicle ownership lasting nine years. Cars are also lasting longer than ever with the average age of vehicles on the road being 12.1 years old, meaning that people are keeping new and used rides longer than ever. It's plausible that a vehicle will change hands during that 10-year trial period, leading to the remote start function deactivating after someone purchases the vehicle used. But it's just as plausible that the original owner will have to pay up.
What's even more unknown is how technology might affect something like this in the future. For example, cellular providers in the U.S. have earmarked the end of the 3G cellular network, a technology that many vehicles rely on today in order to call home to the mothership, so to speak. We've got a whole explainer on that available here, but the long and the short of it is that the situation is particularly dire for Toyota owners.
While some other manufacturers are retrofitting vehicles to be compatible with newer LTE networks, Toyota is discontinuing Connected Services support for the affected vehicles, all of which are model year 2019 or earlier. A Toyota spokesperson confirmed to The Drive that it has no plans to offer an upgrade, paid or otherwise, to vehicles affected by the 3G shutdown. Perhaps not coincidentally, the automaker also announced that it has "enhanced" vehicles built before Nov. 12, 2018, to no longer require a subscription for the key fob's remote start feature to function.


It's pretty clear that consumers aren't exactly rooting for subscription services in the auto industry. Toyota's example feels a bit egregious; it would be different if the key required a separate cellular connection or paired with the owner's phone via bluetooth and utilized the app's baked-in connectivity. But this is a physical key fob that needs to communicate directly with the vehicle via radio frequency—no remote connection back to Toyota is needed. So why require a subscription?
Original Story on TheDrive.com Here
A Tesla Model 3 built in China at the automaker's Gigafactory Shanghai facility was spotted in San Francisco, California, earlier today, flaring the curiosities of fans of the automaker. Questions surrounding why Tesla would ship a Model 3 from China to the United States come to mind, and it may have something to do with the several moves Tesla is making to bring features of the China-built Model 3 and Model Y to the same models produced for the U.S. market.




The photos of the Model 3 were sent by a
Teslarati
reader who was traveling around San Francisco in his Model Y. He was unsure whether it was an official Shanghai-built Model 3, as replica badges can be purchased through third-party manufacturers.
However, the Model 3 in the photos sent by the reader revealed some features of the MIC Model 3 that differ from the U.S.-built version, confirming that it was indeed a Shanghai-built vehicle. Initially, the manufacturer's plates would indicate that Tesla had the vehicle sent from China to the United States. However, the license plate area on the rear of the vehicle shows an elongated and narrowed placeholder, which differs from the design of the U.S. version of the car.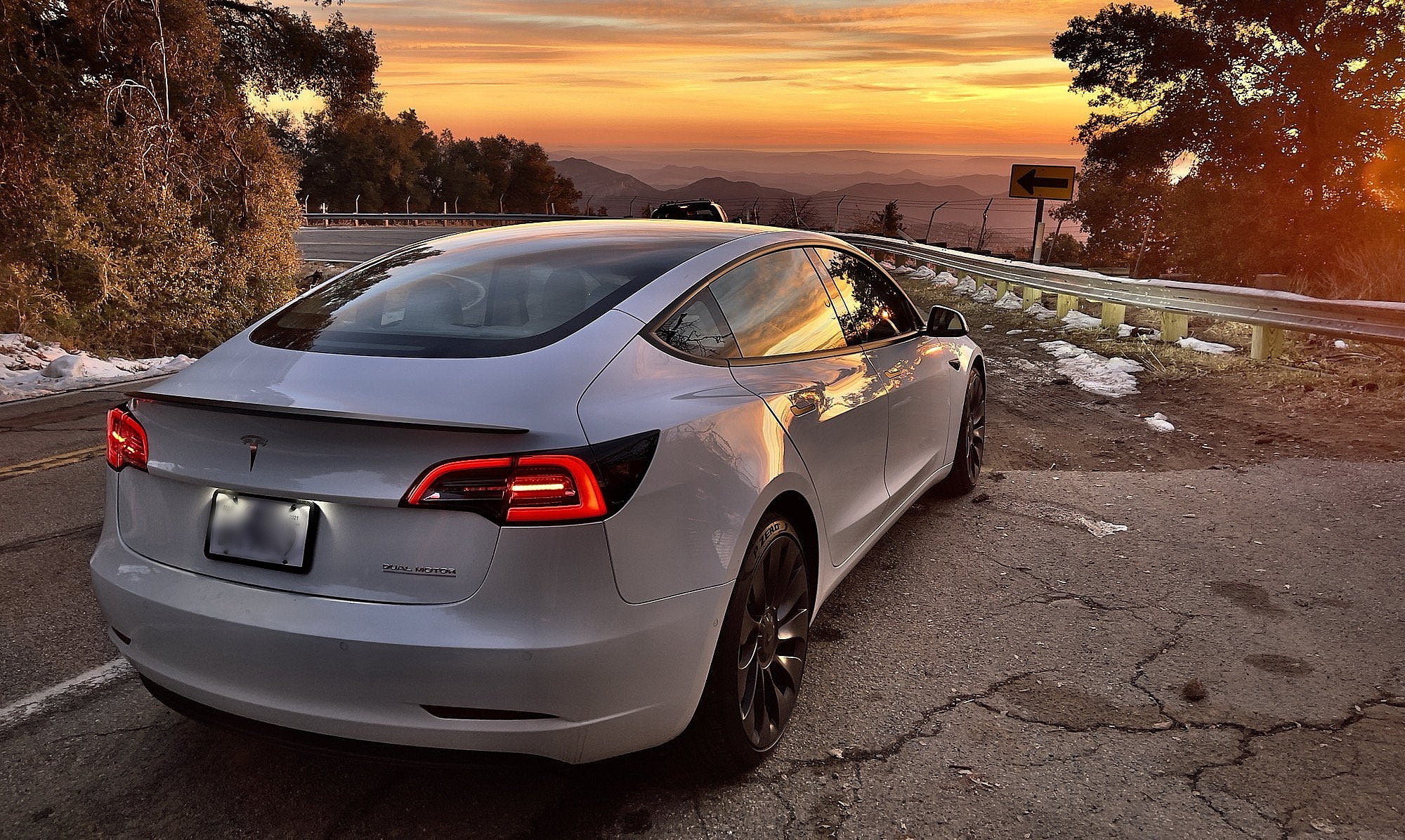 This U.S.-built Model 3 has a license plate placeholder area that differs from the MIC Model 3. (Credit: Reddit | u/BattMastard)
Tesla has several reasons to bring a China-made Model 3 to the U.S. for testing or regulatory purposes. First, Tesla announced in October that it would bring LFP battery packs, which were utilized in China-built Model 3 vehicles, to the U.S. market. Tesla plans to use these packs globally, as they are already present in the Asian and European markets through Gigafactory Shanghai's export strategy. Tesla started offering customers in North America the opportunity to accept delivery of a Model 3 with the LFP pack in August.


CEO Elon Musk explained the reasoning during the Q3 Earnings Call:


"I think probably there is a long-term shift more in the direction of iron-based lithium-ion cells rather over nickel. I think probably we'll see a shift — my guess is probably to two-thirds iron, one-third nickel, or something on that order. And this is actually good because there's plenty of iron in the world. There's an insane amount of iron. But nickel, there's much less nickel, and there's way less cobalt."
Tesla also has started installing the AMD Ryzen processor for infotainment systems in the China-built Model Y. Tesla installed this same graphics system in the Model S Plaid and could be looking to bring the improved infotainment experience to its mass-market vehicles in the United States.


Finally, Tesla is introducing the 12-volt lithium-ion battery in China-built vehicles, just as the Model S Plaid has also equipped since its first deliveries in June 2021. The 12-volt lithium-ion battery has plenty of advantages, especially with improved voltage and refined amperage. These 12-volt batteries also have longer lifespans and reduced weights, compared to previously-used lead-acid batteries.
Original Story By Teslarati Here
Before getting into the TheDrive.com article, for those of you who have not used one pedal driving (also referred to as regenerative braking) In most EV's and all Tesla's once you remove your foot from the gas the vehicle begins to brake. Although it might sound complex, the concept of regenerative braking is pretty simple. Energy Education defines it as: "a type of kinetic energy recovery system that transfers the kinetic energy of an object in motion into potential or stored energy to slow the vehicle down, and as a result increases fuel efficiency." Basically, it's a feature that has you solely relying on the gas pedal as opposed to the brakes, as to not waste energy, but rather recover it. You still have a brake pedal, too, if you aren't convinced.

To gain speed using regenerative braking, you apply more pressure to the gas as you normally would. And to slow down, you progressively lift your foot off the gas, eventually lifting it off entirely to come to a full stop. The benefit of this is that it takes the kinetic energy of your car, which is moving, and converts it into stored energy. This not only saves energy that your car would expend from braking, but it actually takes some of it back. With that said here is the article by Jerry Perez on December 02 from TheDrive.com:

California Department of Motor Vehicles examiner chose to fail a 16-year-old student driver attempting to acquire his driver's license, after the student used the Tesla Model 3's regenerative braking system on the driving portion of the test. According to CBS SF Bay Area, the examiner noticed the car's automated braking capabilities as soon as the test began, but it wasn't until the very end that the examiner used it as an excuse for flunking the teen.


The student driver, Bryce Rosenblum, claims the examiner never instructed him to disable the regenerative braking feature on the Model 3, despite being aware of how it would impact the overall score of the test. Based on the report, it appears that the examiner's reasoning for the score was that the student didn't physically use his foot and/or brake pedal to slow down the car, noting that the "applicant did not slow car. Only put foot on brake after car was slowed and stopping."


"Right off the bat, she warns me that the car was slowing down on its own, like at a stop sign," Rosenblum told
CBS SF Bay Area
. "And she told me that happened twice, before we even left the parking lot. And then we continue on the test. We did everything that a test is supposed to have in it. And then she then pulled me in and told me I failed."


Needless to say, the student's father wasn't happy with the outcome and reportedly had a few words with the examiner following the test, and also filed a complaint with the California DMV.
"This is a broken process," Neal Rosenblum reportedly told the examiner after the test, per
CBS SF Bay Area
. "In essence, she was saying the car was braking itself. And I said, 'OK, but that's how the car works
.
' And she said, 'But he needs to show me that he can actually move his foot from the gas pedal to the brake.' And I said, 'Ma'am, the car wasn't set up like that. If he lifts his foot off the gas and starts to move it to the brake, the car is going to stop in the middle of the road.'"


Much to the Rosenblum's delight, the complaint was addressed in a timely manner by the agency's board, and the test's final score was changed to passing, according to the report. This meant that the teen ultimately qualified to get his license and did not have to retake the test in the family's Model 3—or any other car.


The news station received the following statement after an inquiry to the agency's Public Affairs Office:


"Thank you for your inquiry related to Bryce Rosenblum's behind-the-wheel driving test DMV's Field Operations Division reviewed the drive test score sheet and has determined the drive test score will be revised as passing. The customer will be advised that their license should be arriving in the mail soon."


This isn't the first time a license applicant has been failed by the DMV due to Tesla's regenerative braking system. As Teslarati reports, a university professor experienced a nearly identical situation earlier this year when he drove his Tesla Model X for a required driving test due to an out-of-state relocation. The 38-year-old engineer was failed because the brakes "kept engaging on their own."


With automakers currently electrifying their vehicle lineups and drawing up ambitious plans to roll out more and more EVs, it's evident that all kinds of legislation ranging from sales, servicing, taxation, and even driver's license tests will have to be reformed.


Tesla CEO Elon Musk mentioned this, but Electrify America is already cooperating with restaurants to make it happen.
Does anyone remember the days when "carhops," (typically on roller skates) brought food to your car at drive-in restaurants? The electric vehicle era may just bring that quaint bit of automotive Americana back again.


A shopping mall is an ideal spot for a fast charging station, and ordering food from one of the restaurants to eat in your car while you top up your EV battery seems like a natural idea (at least to us Americans).
That's just what Electrify America plans to offer at its new charging stations at the Westfield Valley Fair shopping center in Santa Clara, California.


The location features 14 ultra-fast chargers offering power levels of 150-350 kW. Solar canopies above the chargers provide customers with protection from the elements and reduce electricity draw from the local utility. The solar panels charge a battery energy storage system that can store power when electricity rates are low and feed power to the chargers at peak times.
EV drivers can order meals from the mall restaurants to be delivered to their cars as they charge—a handy amenity that will be offered across other Westfield locations in the future. Electrify America is planning to open new stations at 17 locations owned by Westfield, an international operator of shopping malls, across 7 US states, by the end of 2022.
Original Story By Charles Morris Here


Tesla Model 3 no longer eligible for electric car rebate in Canada

The Tesla Model 3 will no longer top the list of Canada's most rebated electric car.


In a notice posted on its website, Transport Canada said the popular car ceased to be eligible for the federal $5,000 electric car rebate program for both its 2021 and 2022 models.
Only Tesla 3 models that were ordered before Nov. 23 will still have the rebate shaved off its price tag under what the government calls its iZEV program.
Transport Canada said Tesla announced a price increase to its standard range and standard range plus models that took effect Nov. 23, which now exceeds the iZEV program's eligibility requirements.


"As a result, these vehicle models are no longer eligible for iZEV program incentives," the department said.
The carmaker's website now lists the base price for the Model 3 as $59,990, well above the $45,000 qualifying price to get the $5,000 rebate. Higher-end versions of the same model can cost up to $55,000 and still be eligible.


In 2019, the company lowered the base price of the Model 3 to just under $45,000 to make it eligible for the program, which began in May of that year.


Since then nearly 35,000 Teslas qualified for it, with the company receiving $173.6 million.

It puts Tesla well out in front as the most popular electric car in Canada. The number two electric car, the Toyota Prius Prime plug-in hybrid, which qualifies for a $2,500 rebate, saw 14,822 vehicles get rebated since May 2019, for a total of $36.9 million.


 The Hyundai Kona is the next most popular fully electric vehicle and is also eligible for the full $5,000 rebate. The company has submitted 12,890 cars for the rebate and received $64.4 million.


Joanna Kyriazis, a senior policy adviser at Clean Energy Canada, said the Tesla 3 has proven to be very popular but she is not concerned pricing it out of the iZEV program will have a negative impact on overall sales of electric cars.
"The federal rebate program has been very popular and there are plenty of other EV models that would qualify for the federal rebate," she said. "We just need a national zero-emission vehicle mandate in place to ensure enough of those vehicles are available to Canadians across the country."
Earlier this year the federal Liberals said they intend to set a mandate that by 2030, half of all new cars sold in Canada are zero-emissions, and 100 per cent by 2035. About 3.5 per cent of new cars sold last year were ZEVs.


Tesla 3s rocketed to the top of the popularity list in Canada before the federal incentive showed up. Introduced in the spring of 2018, Teslas flew to the top of the sales list, selling nearly 5,000 cars in the first four months on offer. The Nissan Leaf, in second place in the second and third quarters of 2018, sold about 3,800.
Original Story Here